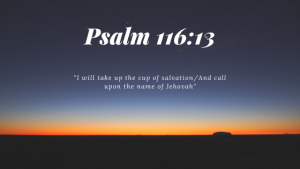 I really enjoyed the point about calling on the Lord's name audibly. According to the Hebrew meaning, the word " call " means to call out to, to cry unto, and to cry out. So calling must be audible.
Calling the Lord's name audibly helps us to be saved richly. Psalm 116:13 says "I will take up the cup of salvation/And call upon the name of Jehovah".
It is also a testimony to others that we are Christians. Hallelujah! Let's all practice to call His name audibly
"Oh! Lord Jesus "!